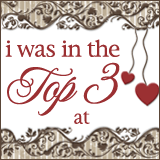 Such a nice surprise today to see my card was chosen as one of the Top 3 over at the SU challenge last week. Their challenge this week is summer celebrations. You'll find the challenge
here
.
I recently did a card for a friend who is an American living in my old home town here in the UK. I thought it might make her think of home and I think it goes well with their challenge this week.
The Stars and Stripes on the heart were made with the new
Playful Backgrounds
set. The background Stars on the
Dapper Denim
cardstock were made with the stamps from
Shooting Star
. A set I didn't like initially but its really growing on me.
The banners were made with the sadly retired Banner Banter - I used to love this set as it was so good when you needed small sentiments. I used my white Signo Gel pen to draw in the string.
Over at Less is More challenge blog this week - the challenge is purple. Their challenge is
here
. I've used the roses from
Picture Perfect
here, together with some of the leaves. The roses are Three Step Stamping stamps as are the leaves. The sentiment is from the same set. The roses have been stamped in
Basic Gray
, Perfect
Plum
and
Elegant Eggplant.
Nothing to do with crafting, well not paper crafting anyway. June is the time for Elderflowers and I'm lucky enough to have lots of Elder trees in my garden. Never cut them down - its bad luck and never ever burn Elder! I don't take all the flowers cause I like to leave some berries for winter cordials. Did you know the original Brown Sauce, used here in the UK, was actually Elderberry Katchup. I made it once - it takes 7 years to mature!!!!! I kept it for 5 before we used it.
Anyway Elderflowers is Champagne time - well not actual Champagne cuase we are not in the Champagne region of France - but Elderflower Fizz then. In a few days time these lovely floral flowers will be turned into a lovely summer drink.
Happy Crafting