We all love new things and us Demonstrators get just as excited when the Stampin' Up! box arrives with new goodies. We have named the driver Mr Brown as it comes in the UPS van and we all get excited when Mr Brown arrives!
I didn't waste much time in playing with my new goodies when they arrived - I had wanted to join in with the Less Is More challenge which was Time but I didn't have anything that was suitable. Aha, until my shipment arrived.
One of the stamp sets I had ordered was a Project Life set - called Date It! Not what you may immediately think of for a time card but it had the perfect words, Summer and Time in it, along with 80 other stamps - yes that's 80!!!! 82 stamps in total - I wonder if I will ever get to use all of them! All these stamps for £23.00 - I know amazing - click on the image below if you want more information.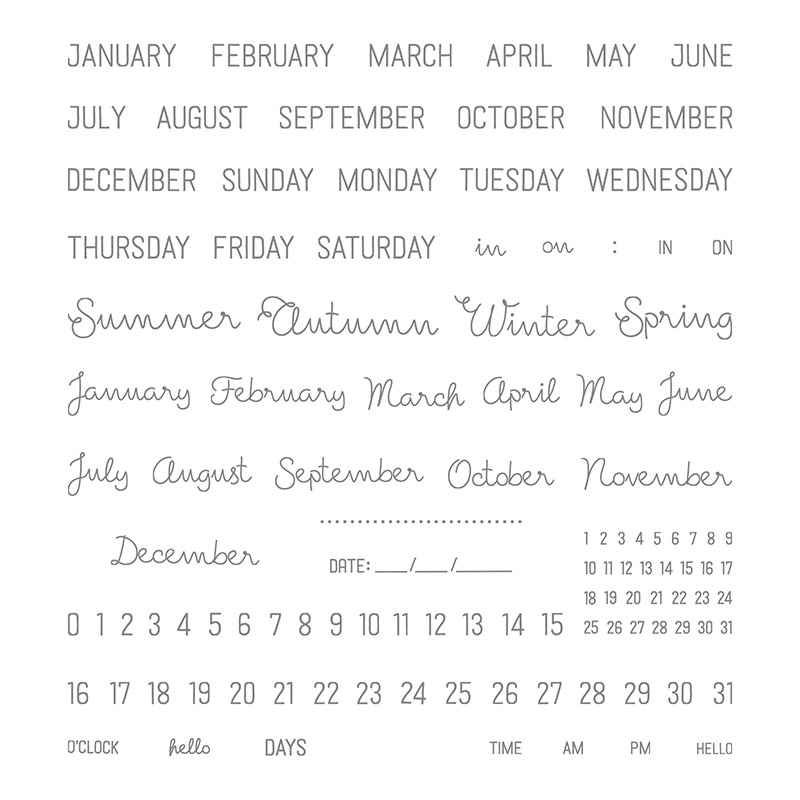 Anyway I digress. The other new products I had ordered was a pack of the Serene Scenery 6 x 6 papers - I've seen some lovely cards made with these. So I jumped in and yes, I actually cut up a piece of the paper. Die hard paper lovers will know it normally takes months before we cut up our papers but I 've done it straight away. I used the easel from Painter's Palette and cut out the inner bit to add one of the dandelion seed heads from this paper. The background paper is the reverse side. The words were stamped and cut out with our Tag punch and the butterfly cut out from the same paper with the butterfly punch.
Voila! However, on re-reading the rules for the challenge I suddenly realised this card was no good as it wasn't one layer! Sad face.
So..... I used the same words from the Project Life stamp set, but in my little box of goodies I had yet another new set I wanted to play with - this time it was the Jar of Love set. I never thought the first stamps I would use from this set would be the flowers but they looked so pretty and just what I wanted for my summer card.
Stamped on Very Vanilla cardstock in Pear Pizzazz with just a touch of Blushing Bride from a marker pen on the butterfly. This one is one layer and can be added to the challenge. You will find the challenge here
Phew thanks for reading all this and if you got to the bottom give yourself a pat on the back.
Happy Crafting